When I walked these halls as a student I didn't know there was an art room. When I went back to visit one day as an adult, I was enthusiastically invited to not only meet the two fun and progressive art teachers, but to be the 2017 local artist at the regional art fair! All five ascending districts were to be present, and I was delighted to accept..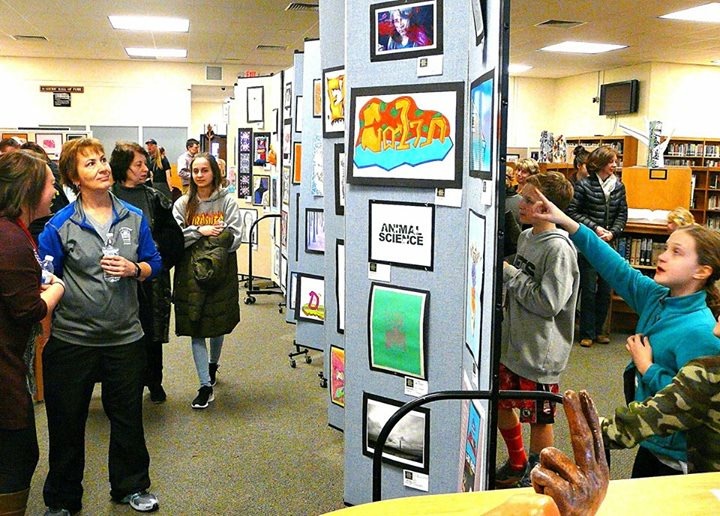 Delaware Valley Regional High
Art Fair 2017
FEATURED REGIONAL ARTIST ERIKA RACHEL
There was a table set up next to mine that had paper and pastel chalk for kids and parents. At one point, a little girl who'd been admiring my work came over and gave me a picture that very much mimicked one of my paintings. To say I was flatted was an understatement- I was moved. She used the same colors, and gave her drawing the same shape and flow as my work.
And then as if that wasn't enough, she came over again near the end of the fair and said "Here, this is you", I thought I misheard her, but she indeed meant it. She'd drawn a very accurate 8 year old's drawing of me. Earrings, long lashes, shirt collar, and blonde hair all in place. This time I was more than moved, I wanted to cry!
This little sweetheart inspired her older bother and younger sister, and by the end of the night I had a drawing from each of them. I asked that they each sign their beautiful work, and the portrait of me? Well it became my Facebook profile photo for almost 6 months. lol.
I'm glad I participated. I know I inspired many young people there that day, and I'm grateful I was able to show them a style of work that I didn't even know existed till I was nearly 20.
Go Terriers! (Yes, that's really our mascot, lol)